McNamee, Hosea, Jernigan, Kim, Greenan & Lynch, P.A.
Mar 20, 2014 11:07AM ● By Cate Reynolds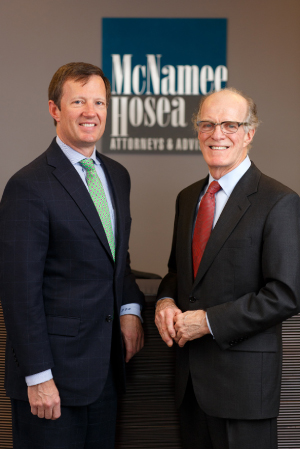 James M. Greenan
is a Managing Principal at
McNamee Hosea.
For over 40 years, his practice has focused on restoring the finances of businesses and individuals. His experience includes complex reorganizations in Chapter 11 cases, Chapter 7 bankruptcies and out of court debt restructuring. Mr. Greenan and the McNamee Hosea restructuring and creditor rights group also represent banks, lenders and creditors in complex Chapter 11 cases.
Mr. Greenan has received numerous awards, including Maryland Super Lawyers (2008-2014), Washington D.C. Super Lawyers (2008-2013) and Top Bankruptcy Attorney by Washingtonian Magazine (2008-2013). Mr. Greenan served as the President of the Bankruptcy Bar Association for the District of Maryland from 2009-2010, and currently serves on the Bankruptcy Bar Association Board of Directors.
John P. Lynch
is also a Principal at McNamee Hosea, with more than two decades of experience in resolving business disputes, and handling construction, real property and insurance defense matters. He has successfully litigated, negotiatedor resolved numerous complex andhighly contested business, construction and real estate matters for local and national companies.
Mr. Lynch has been named a"Top Attorney" in the Washington Metropolitan area by Washingtonian Magazine (2004, 2007, 2009), a distinction reserved for approximately one percent of practicing attorneys. He is an active board member for the James Cawood, Jr. Inns of Court (Anne Arundel County, MD). Since 2010, he has served as a Legislative Committee Chair for ABC Metro Washington Builders and Contractors Association. He resides in Murray Hill with his wife Christina and their three children.
Mr. Greenan and Mr. Lynch, along with their team of attorneys and professional staff, have a tradition of providing the highest standards of client service and responsiveness. Personalized and individual attention is based on a team approach, allowing clients to benefitfrom the combined strength and yearsof experience.
McNamee Hosea was founded in 1982 in Prince George's County. The firm continued its expansion into Anne Arundel County, when it opened its Annapolis office in 1993. For over 30 years, McNamee Hosea has provided a comprehensive suite of services for national and local companies as well as individuals. With offices in Greenbelt and Annapolis, Maryland, we help business owners find solutions to legal challenges.
www.mhlawyers.com
888 Bestgate Road, Suite 304
Annapolis, MD 21401
410-266-9909
6411 Ivy Lane, Suite 200
Greenbelt, MD 20770
301-441-2420