Souza LLC / Attorneys
Mar 20, 2014 11:14AM ● By Cate Reynolds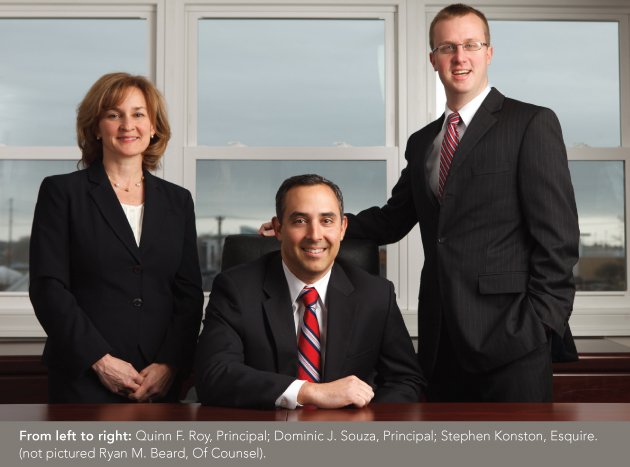 The lawyers of
SOUZA LLC /ATTORNEYS,
referred to by its clients simply as
"SOUZA",
are business representation specialists. Souza's clients consist of small and emerging businesses as well as prestigious local, regional, national and international companies in industries such as banking, construction, leasing, technology, retail, and franchise.
Souza's attorneys specialize in those areas in which businesses and their principals typically require legal assistance such as: Banking/Finance, Business/Corporate, Commercial Leasing, Commercial Litigation, Construction Law/Litigation, Employment, Estate Planning/Administration, Franchise, Mergers & Acquisitions, Commercial Real Estate, Trademarks, and Succession Planning.
The firm's managing principal,
Dominic J. Souza
, founded the firm in 2006. Mr. Souza has been recognized recently by
What's Up Annapolis
(2010; 2012; 2014) and
SmartCEO
(2010; 2011) as a leading lawyer/go-to attorney in various areas including Business Law, Real Estate Law and Construction Law.
Quinn F. Roy
, principal and with the firm since 2008, has established a reputation of being a thorough, precise and talented corporate and transactional attorney. Ms. Roy's practice areas include Banking, Business/Corporate, Franchise, Mergers & Acquisitions, Real Estate, Trademark, Transactional, Estates Planning and Estate Administration.
Stephen Kontson,
serving in the firm's litigation section since 2010, is admitted to practice law in Maryland and the United States District Court for the District of Maryland. His practice areas include civil and criminal litigation, commercial litigation, construction law, business / corporate law, personal injury, and traffic law.
Ryan Beard,
of counsel to the firm, is the Vice President of Legal and General Counsel at Smartlink, a national industry leader in providing staffing and site development services. Mr. Beard also retains a private practice, assisting clients with general corporate, business, employment, real estate and transactional matters.

2543 Housley Road
Annapolis, MD 21401
410-571-8366 |
www.souzalaw.com