Shipley Law Firm
Mar 20, 2014 03:53PM ● By Cate Reynolds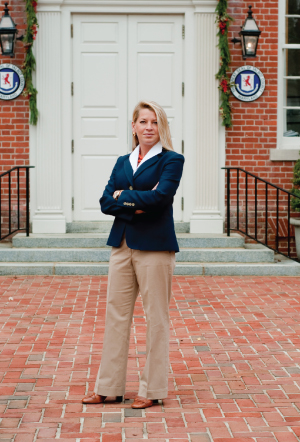 Stephanie A. Shipley is a well recognized trial lawyer on the Eastern Shore and throughout Maryland. She was elected a Fellow of the Maryland Bar Foundation in 2012. In 2013, she was selected as one of the Top 100 Trial Lawyers in the State of Maryland.
Ms. Shipley attended Dickinson College in Carlisle, Pennsylvania majoring in Political Science and Economics where she earned a Bachelor of Arts degree in 1992. She moved to the Eastern Shore of Maryland after graduating from the University of Baltimore School of Law in 1995. She worked as a judicial law clerk to the Honorable Donald F. Johnson, in the Circuit Court for Dorchester County, just after law school. Shipley began her legal career as a prosecutor in Talbot County, Maryland in 1996, trying both misdemeanor and felony cases. After leaving the State's Attorney's Office, she specialized in complex civil litigation, insurance defense and criminal defense while working for a local Easton firm. Desiring to expand her focus on criminal and traffic defense, she opened her solo practice in 2004.
Stephanie is known for aggressively defending her clients and personally handling all aspects of her cases. She has tried over 100 jury trials throughout the State and has handled more than 1000 district court cases. Her successful criminal defense practice has earned her the respect of her peers, the courts and citizens throughout the Eastern Shore. Shipley's peers and fellow attorneys voted her one of the 2014 Leading Lawyers in the area of Criminal Law.
Apart from her active defense practice, Attorney Shipley has served as attorney for the Talbot County Board of Elections for over 10 years and is a member of the Judicial Nominating Commission for Talbot, Caroline and Dorchester counties. She was selected and sworn in to the Bar of the United States Supreme Court in 2013.
Stephanie A. Shipley is licensed to practice law in the States of Maryland and Florida. She invites you to her office conveniently located across from the Circuit Court for Talbot County onDover Street in downtown Easton or to visit her website at
www.shipleyfirm.com
.

Shipley Law Firm
10 West Dover Street, Easton, Maryland 21601
410-822-7660 |
shipleyfirm.com
Q. I was arrested in Maryland for DUI/DWI, I'm a first offender, do I need representation?
A.
Unlike criminal charges, drunk driving charges involve two distinct processes—the administrative process (MVA) and criminal trial. It is common for DUI arrestees to get advice from all sorts of unqualified people, including family, friends and lawyers who do not specialize in DUI defense. That's a mistake. Your driving privilege may be suspended even as a first offender. You face incarceration even as a first offender. A lawyer specializing in DUI/DWIs can guide you through the MVA, the criminal proceeding and recommend treatment options if appropriate.
Stephanie A. Shipley, Shipley Law Firm