John Leo Walter, Esquire
Mar 20, 2014 03:58PM ● By Cate Reynolds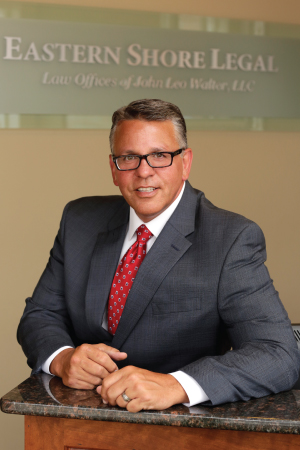 Mr. Walter—how does it feel to be voted an outstanding litigator on the Eastern Shore?
It is very humbling—I have a deep respect for all of the attorneys that practice here on the Shore; I am very fortunate and privileged to work with so many fine talented lawyers—to be recognized as "outstanding" by my peers is a profound honor.
Can you explain to the readers what a litigation attorney is?
Yes. A litigation attorney is a lawyer that focuses primarily on courtroom trial work. A litigation attorney defends and represents Plaintiffs and Defendants in the Maryland Court system. Under the category of litigation, there are sort-of subcategories, so to speak, lawyers that focus on certain areas of the law. For instance, some lawyers do family law; some do real estate. My firm focuses mostly on criminal and traffic defense—as well as personal injury cases (serious auto accidents, medical malpractice, premises liability, etc.) and breach of contracts.
What makes a good trial lawyer?
Preparation and client communication. With regard to preparation, I always think back to the advice a very senior Circuit Court Judge—whose name shall remain anonymous—gave me during one of my first jury trials almost 18 years ago. He said, "counselor: always remember, when you prepare for trial you should always come to court with a belt & suspenders." I'll never forget it; in essence, the Judge was saying always be over-prepared—but now that I think about it, maybe he was telling me that I don't want to get caught with my pants down?
As for client communication, a happy client makes for a better trial. If your client is well informed and understands what's going on—meaning the lawyer tells the client all of the possible ups and downs and ins and outs of the case—the client will undoubtedly be more comfortable in Court and the trial usually goes pretty smoothly. I am of the opinion that if you keep your client informed of all the potential outcomes (good and bad) the client will be happy…and so will the lawyer.

EASTERN SHORE LEGAL®
Law Offices of John Leo Walter, LLC
128 N. Commerce Street, POB 686
Centreville, Maryland 21617
Phone: 410-758-2662 | Fax: 410-758-2877
Toll Free: 1-866-ESL-2662
www.EasternShoreLegal.com
www.JohnLeoWalter.com
Q. What should I do if I get into a car accident?
A.
If you are involved in an auto accident it is very important to (i) call the police, (ii) exchange information with the at-fault driver; get insurance information, drivers license number and tag number (with the advent of smart-phones it is super easy to simply take pictures of all of these things), (iii) take a picture of the property damage and the location of the accident, (iv) seek medical treatment, and (v) contact a lawyer.
John Leo Walter, Esquire, Eastern Shore Legal