Jacobs & Barney LLC
Mar 20, 2014 04:01PM ● By Cate Reynolds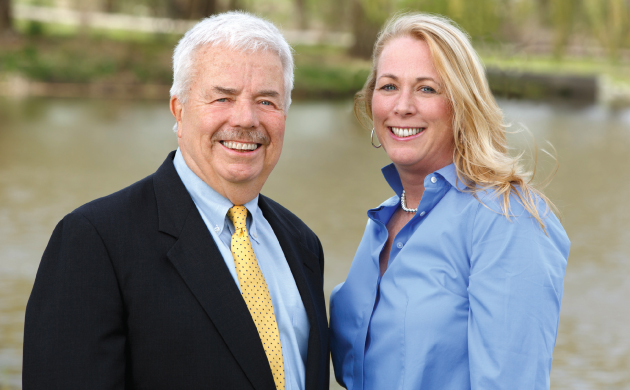 Jacobs & Barney LLC is a small family firm located in the heart of Easton with a practice spanning the Eastern shore extending to Annapolis and Baltimore. Michael J. Jacobs and Melanie Jacobs Barney, a father and daughter team of lawyers, are experienced in providing high quality legal services involving civil trials, arbitration, mediation and negotiation.
Jacobs & Barney routinely handles legal disputes involving a variety of issues, including personal injury claims, business and commercial interests, contracts, construction matters, estates and trusts, real estate boundaries and easements, landlord/tenant matters, covenants, non-compete agreements, trade secrets, injunctions and zoning matters. The firm also handles some maritime cases based in part upon Mike's designation as a proctor in admiralty and his Coast Guard experience.
Both Melanie and Mike are proud of their high success rate and the quality of the legal services they provide—and they value their many satisfied clients. "We help our clients negotiate the legal system effectively," said Mike. "We've established some wonderfulrelationships with many fine people and businesses over the years. We have been privileged to be able to help them at a time thatthey really needed our help."
Melanie further explained that preparation and dedication to the representation of their clients' interests are the cornerstones of the practice. "We evaluate and prepare a case carefully and try to help clients avoid a lawsuit, if possible, since a lawsuit is not always the best resolution of a client's problems. But when all else fails, we are ready and able to litigate a case and we know how to do that well, to achieve the best result for our clients."
The law firm was formed in 1994 when Mike left his longstanding partnership with Miles & Stockbridge in its Easton office to establish his own firm. He planned to eventually practice with his daughter Melanie, who was then in law school. Prior to joining Miles & Stockbridge in 1983, Mike had served as an officer, lawyer and judge with the rank of commander in the United States Coast Guard.
Mike's dedication to clients, the community and the legal profession is a trait passed on to Melanie. Over the years, the two have also worked to serve their clients, the community and the legal profession through their work with various civic and professional organizations. In 2003, Mike received the Thurgood Marshall Legacy Award from the Talbot County branch of the NAACP. He received the Club Service Award from the Easton Rotary Club for 2007-2008.
Mike and Melanie recognize the personal and business concerns that go along with the legal issues faced by their clients. They are dedicated to helping their clients find their way to the best possible resolution of their problems.
Michael J. Jacobs & Melanie Jacobs Barney
Jacobs & Barney LLC
Talbot Landing No. 8, 295 Bay Street, Easton MD
410-820-7600 |
www.jacobsbarney.com
Q. I just discovered that a trusted employee has been stealing from my business. What should I do?
A.
Contact a lawyer who can advise you how to fire your employee in a manner that protects your interests, notify your insurance company, preserve evidence, investigate the extent of the theft, and decide whether and when to file criminal charges and a civil suit. Unfortunately, you may also need assistance with creditors since the diversion of payments and the falsification of records is common in such cases. An attorney can help you understand the legal considerations involved and how best to protect your interests.
Melanie J. Barney, Jacobs & Barney