The Law Offices of Stevens Palmer, LLC
Mar 20, 2014 04:08PM ● By Cate Reynolds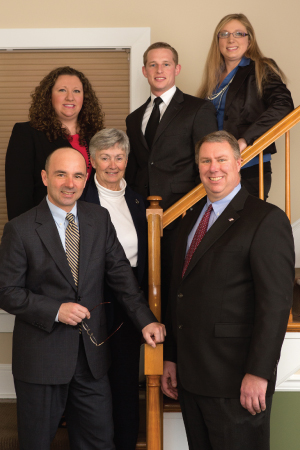 When you need legal assistance, let the attorneys at
Stevens Palmer
, LLC work for you, offering quality service you can trust. With their legal and business expertise and decades of experience in a wide range of practice areas, including real estate, land use, administrative and environmental matters, litigation, family matters, mediation, and criminal cases, Stevens Palmer, LLC provides decisive, results-oriented representation.
Joseph A. Stevens
, managing member of Stevens Palmer, LLC, has more than 27 years of land use and real estate experience and has consistently demonstrated his ability to successfully represent private, public, and institutional clients in real estate, business, development, and governmental matters. He has extensive experience practicing before elected officials, administrative agencies, and trial and appellate courts. Joseph is also managing member of
Bay East Title
, an attorney owned and operated, full-service title company conveniently located in the Law Offices of Stevens Palmer, LLC, and is a licensed title insurance agent who represents clients in many of Maryland's Eastern Shore's largest transactions.
In addition, Joseph served as a member of the Maryland Land Use Code Revision Committee and as the Director of the Department of Planning and Zoning, Queen Annes's County. He is a member of the Maryland Bar Association and has held faculty positions at the Department of Urban Studies and Planning at the University of Maryland and the Continuing Education Program at the University of Wisconsin.
Patrick J. Palmer
, partner at Stevens Palmer, LLC, practices in a variety of areas, including family law, consumer bankruptcy, civil and criminal litigation, custody and child support, estates, business, corporate, and personal injury cases. He served as Juvenile and Domestic Relations Master for Maryland's Second Judicial Circuit and is a fully certified mediator. Patrick was also instrumental in establishing a comprehensive mediation program in the Circuit Court for Queen Anne's County and a Court Appointed Special Advocate program.
Bay East Title
provides real estate title services to residential, commercial, agricultural, institutional, and industrial clients. For more than 12 years, the company has provided professional, quality service at reasonable prices.
Erin L. Anderson
, settlement coordinator, is a licensed title insurance agent who has been conducting settlements in Maryland since 2004 and handles most of the real estate settlements for Bay East Title. She works with clients, sellers, real estate agents, attorneys, and lenders to ensure that every transaction is as effortless as possible. In addition, Erin is a paralegal for Stevens Palmer, LLC, focusing on real estate and business matters.
No matter what your legal needs are, you can rest assured that the attorneys at Stevens Palmer, LLC will handle your case efficiently and professionally. For more information, visit www.spp-law.com, or call 410-758-4600 to schedulean appointment.

Stevens Palmer, LLC
114 West Water Street
P.O. Box 146
Centreville, Maryland 21617
Telephone: 410-758-4600
Fax: 410-758-3555
www.spp-law.com
Bay East Title
114 West Water Street
P.O. Box 146
Centreville, Maryland 21617
Telephone: 410-758-4682
Fax: 410-758-3555
Q. My significant other and I just separated, and we don't have a custody order. Can we go into court and get a quick order?
A.
In short, no. Barring an emergency, the court is extremely structured and won't enter any order until there has been service of process and a hearing. In rare instances, the court will enter emergency relief if there is an imminent threat to the physical or psychological well-being of the children. But it will still be conducted in a matter of weeks or months. The important point is parents and children are best served if they patiently work together to resolve custody issues.
Patrick J. Palmer, Esq., Stevens Palmer, LLC