What's Up? with Eastern Shore Real Estate
Apr 11, 2014 11:29AM ● By Cate Reynolds
Who doesn't love a bonus space? Eastern Shore homes are well known for their waterfront locations, quiet settings, and outdoor-oriented lifestyles, but sometimes it's that little extra area—a converted garage or pool space or guest wing—that clinches the deal. In this issue of
What's Up? with Eastern Shore
Real Estate, we profile two homes with spaces beyond the main house that appeal to everyone.
Westerly (Talbot County)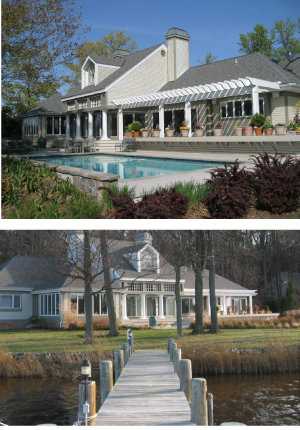 Primary Structure Built:
1988
Sold For:
$2,225,000
Original List Price:
$2,750,000
Last Sold/Price:
n/a - renovated and enlarged in 2006
Bedrooms:
3 in main house; 1 bedroom, plus loft/bunk room in guest house
Bathrooms:
3.5 in main house; 1 bath in guest house
Living Space:
5,761 square feet (approx. 4,261 sf main house, plus 1,500 sf guest house)
Lot Size:
7.26 acres
Perched at the end of a long, winding, tree-lined driveway and on a point of land that juts out into Plaindealing Creek, this striking home gracefully incorporates an array of attractive bonus spaces. Adding to its appeal, these spaces are privately situated amidst a mostly wooded seven-plus acres and directly next to 55 acres of reserved land. The spaces are further enhanced by its water setting, including 1,000-plus feet of rip rap shoreline, a dock with two boat lifts, and 4-plus feet MLW access. The home, which only underwent one price modification during its seven-month stint on the market, sold relatively quickly for a property of this magnitude.
The contemporary structure is punctuated by columns, double chimneys, and a crowning arched window in both the front and back of the residence. The 26-year old house, originally designed by Silver Spring, Md.-based architect Alan Meyers, hardly shows its age as it was completely renovated and enlarged eight years ago, with alterations by the same architect. The interior features various unique architectural elements: double cathedral ceilings in the living room; custom maple paneling and a stepped tray ceiling in the family room; and a recessed ceiling framing the marble counters and jetted cast iron tub in the master bath. Other high-end elements are discretely woven into the fabric of the home, from custom trim, cabinets and built-ins to a separate exercise room, limestone mantel and generator.
The back of the home opens to stunning views of Plaindealing Creek (which is a quick boat ride to nearby Oxford), as well as a large deck and pool punctuated by a dramatic overhanging pergola.
Just off the home's circular driveway is a separate 1,500 square foot guest house that mirrors the main structure with its own smaller columns and porch. Built in 1998, it includes a large, two-car attached garage. The guest house also features a living room, kitchen, bedroom, loft/bunk room and bath, and is self-contained with its own well and septic system, heat pump, and central air.
Sources: Kurt Petzold (listing agent), Chesapeake Bay Properties, 410-820-8008, chesbay@goeaston.net,
www.chesapeakebayproperty.com
. Eugene M. Smith (buyer's agent), Benson & Mangold, cell-410-443-1571, office-410-745-0415, gsmith@bensonandmangold.com,
www.bensonandmangold.com
.
__________________________________________
Queen Anne Colony
(Queen Anne's County)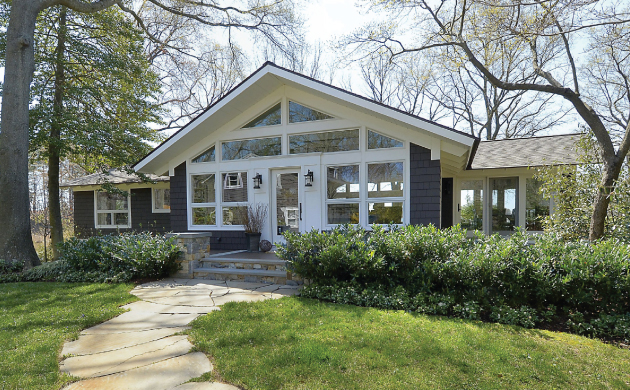 Primary Structure Built:
1963
Sold For:
$1,275,000
Original List Price:
$1,325,000
Last Sold/Price:
2004/$875,000
Bedrooms:
4 in main house; 1 in guest house
Bathrooms:
3 in main house; 1 in guest house; .5 in pool house
Living Space:
approx. 4,198 square feet
Lot Size:
2.83 acres
It's no wonder that the original developer of this community chose this spot for his own during the area's early construction days. Situated on an outcrop of land on Kent Island, it offers amazing water views and deep water access on Price Creek. Yet for such a private setting, it also is conveniently located near Blue Heron Golf Course, the Chesapeake Bay Bridge, and even Bloody Point Lighthouse, which can be spotted in the distance.
When the sellers, Curt and Kathie Jeschke, first bought it 10 years ago, they loved the setting, but eventually remodeled the home completely. The couple incorporated dozens of high-end finishes, and Kathie, an interior designer and owner of The Purple Door Design Studio in Stevensville, Md., was especially instrumental in selecting top-grade appliances, materials, and furnishings. After seven months on the market, with a brief delisting period, the home sold to buyers who loved the property's privacy, expansive water views, pool/guest house, and exquisite renovations. In fact, the buyers so appreciated the sellers' tastes, they purchased a number of furnishings from them.
Large flagstone steps lead to the front of the main house, which appears to be a charming bungalow-style contemporary. But step inside and the wow factor takes over, with an open floor plan, striking white rafter ceilings, and walls of windows for water sightlines.
Every room has water views and many include unique features, such as a pocket door in the master bath or a limestone hearth in the family room. A gourmet kitchen—filled with such high-impact items as a curved, Calacatta marble-topped island, Sub-Zero refrigerator/freezer, Wolf gas range, and Asko dishwasher—is open to the living room and outdoor spaces.
Outside, a multi-tier deck with stainless steel cable railings for unobscured views leads to a waterside swimming pool, complete with water falls. A pool house includes a sink and refrigerator, an indoor half bath, and outdoor shower, while a nearby guest house above the garage is finished with a living area/office, bedroom, and full bath. The property also includes a pier with water and electricity and has 4-plus feet MLW access.
Sources: Teresa Dennison (listing agent), Champion Realty, cell-443-223-1364, office-410-224-0600, teresadennison@championrealty.com,
www.goannapolis.com
. Brad Kappel (buyer's agent), Mr. Waterfront Team, Long & Foster, cell-410-212-5087, office-410-266-6880, brad@waterfronthomes.org,
www.waterfronthomes.org
.