What's Up? With Eastern Shore Real Estate
May 08, 2014 01:12PM ● By Lurdes Abruscato
In a world where terms really act as code—"quaint" translates to tiny and "DIY dream" means "needs lots of work"—homebuyers are usually reticent to embrace real estate that can be summed up in one word. But in this month's What's Up? with Eastern Shore Real Estate, we profile two homes that are perfect illustrations of the one word that describes them.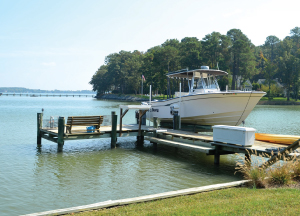 Bozman/Talbot County
Primary Structure Built:
1966
Sold For:
$2,150,000
Original List Price:
$2,450,000
Last Sold/Price:
2005/$2,450,000
Bedrooms:
4
Bathrooms:
4
Living Space:
3,607 square feet
Lot Size:
4.21 acres
For a luxury property to sell just $300,000 less than it did at the height of the market nine years ago is noteworthy; for it to go under contract within 22 days of listing is remarkable. But it's not just the terms of the deal—remarkable applies to everything about this residence.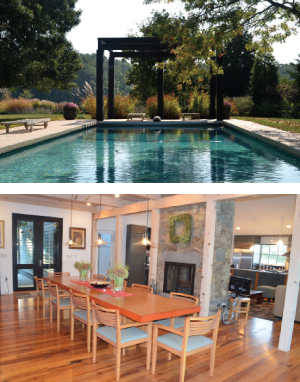 Situated on a small peninsula of land with more than 1,000 feet of rip rap shoreline and 270 degree views onto Broad Creek, this Talbot County residence sits on a premium location. The property includes a private jetty, a dock with 3-plus feet MLW access and a 15,000-lb. boat lift. This part of Broad Creek is especially appealing to boaters as it offers easy access to multiple nearby coves, creeks, and larger waterways.
Playing up its outdoor appeal, all of the exterior spaces have been meticulously designed for entertainment and relaxation, including a large, in-ground pool with a prominent pergola, waterside fire pit, mature shaded trees and gardens, stone patio, bluestone walkways, and outside shower. A screened-in porch allows for all-season outdoor living with both a ceiling fan and fireplace.
The abode itself is equally striking, despite its 48 years of age. The Nantucket-like exterior is a sophisticated rendition of shingle-style architecture by award-winning McInturff Architects of Bethesda, Md. Incorporating modern renovations and timeless architectural details, the interior is contemporary with an open floor plan, sloped and pitched ceilings, exposed beams, and right angles/clean lines. A massive floor-to-ceiling stone fireplace anchors the dining/kitchen/family room and home lore has it that during construction, the roofers had to wait on the mason team to complete its stone puzzle before capping the structure.
The house was sold furnished (including several clean-line pieces complementing the home's style) and the buyers anticipate no renovations or major changes. The transaction between both parties went so smoothly, in fact, that the new homeowners extended an invitation to the sellers to return on their anniversary, as the home was the site of their wedding.
Sources:
Traci Jordan (listing agent), EXIT Latham Realty, cell-410-301-8606, office-410-822-2152 ext. 303, tjordan@mris.com,
www.tracijordan.com
. Eugene Smith (buyer's agent), Benson & Mangold, cell-410-443-1571, office-410-745-0415, gsmith@bensonandmangold.com,
www.bensonandmangold.com
.
__________________________
Love Point/Queen Anne's County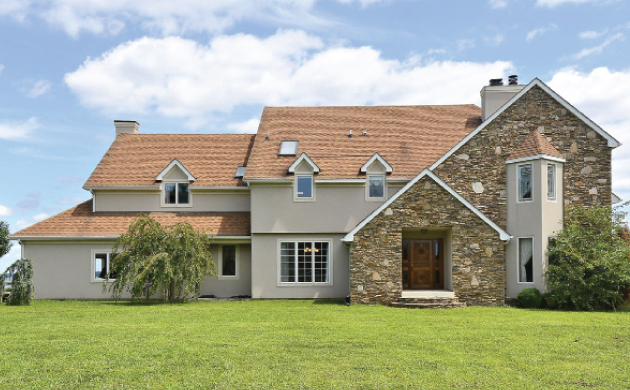 Primary Structure Built:
1987
Sold For:
$1,275,000
Original List Price:
$1,725,000 (after delisting for approx. 1 yr., price adjusted to $1,380,000 and contract resulted in 5 months)
Last Sold/Price:
n/a
Bedrooms:
3
Bathrooms:
3.5
Living Space:
6,338 square feet
Lot Size:
16.52 acres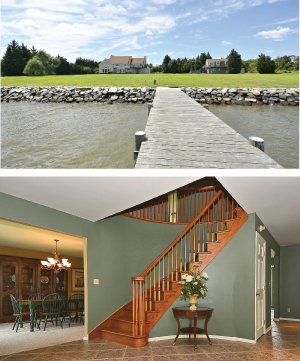 From the property size to the interior layout to separate guest quarters, this home can be summed up in one word: grand. More than 16 acres of land on Kent Island culminate at the water's edge where the Chester River melds with the Chesapeake Bay. The home backs to a pristine rip rap shoreline of 400 feet, an oversized 8-ft.-wide pier (which would not be permitted with today's building restrictions), boat slip and lift, and 3-plus ft. MLW access. Its location is both private and convenient, with optimal water privileges and lush land for recreational and hunting use, yet within very close proximity to the Bay Bridge, area parks, clubs, and more. The new homeowner, who works on the "western" shore, is keen on the property's outdoor amenities, particularly hunting.
The home's dramatic exterior, with its mix of stone frontage, exaggerated roofline, and substantial wood-carved entryway, is mirrored on the inside as well, with a curved staircase, cathedral ceilings, a massive stacked-stone fireplace in the living room and separate place in the office.
The kitchen, with a large granite island and overhead pot rack, includes a desk area and breakfast room. The breakfast room and living room both open to a large deck, complete with hot tub. Many of the windows along the back of the home are grid-less for unobstructed water views. Rooms throughout the house are markedly large. The master bedroom includes its own fireplace, en suite bath, and walk-out deck.

The main house contains a two-car garage, but nearby, an additional building houses a second two-car facility. The separate building offers additional storage and workspace, as well as guest quarters with two bedrooms, bath, living room, patio, kitchen, and deck.
Source:
Diana Carlson, Chesapeake Real Estate Associates, office-410-643-4663, cell-410-507-1111, mdbayshore@gmail.com,
www.marylandbayshore.com
.
Want to suggest a recently sold home to be profiled in What's Up? with Eastern Shore Real Estate? Contact Lurdes Abruscato at lurdesabruscato@aol.com.