What's Up? With Eastern Shore Real Estate
Jun 11, 2014 10:54AM ● By Lurdes Abruscato
At What's Up? with Eastern Shore Real Estate, we are constantly pondering why some for-sale homes linger for seemingly ages, while others get snapped quickly. Though it's sometimes arbitrary, Eastern Shore success stories often occur because the right combination of location, price point, and features are rolled into one. This month, we highlight two residences with elements that amount to a well-rounded package.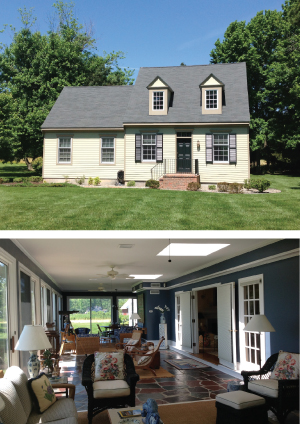 St. Michaels/Talbot County
Primary Structure Built:
1970
Sold For:
$2,800,000
Original List Price:
$3,000,000
Last Sold Price:
1999/$760,000
Bedrooms:
3
Bathrooms:
4.5
Living Space:
5,344 square feet
Lot Size:
12.52 acres
Most luxury homes dawdle on the market and undergo multiple price modifications before selling. But this St. Michaels waterfront property essentially sold itself, going under contract within four months of listing at only $200,000 less than asking price.
Situated on a quiet point of land offering plenty of privacy and extensive water views, the residence is also just minutes from the center of St. Michaels and its historic charm and abundant activities. In addition to ample acreage, it has 1,500 feet of rip rapped water frontage, with a private pier, two boat lifts, and deep water access (4-plus ft. MLW) on San Domingo Creek.
The sellers had done extensive renovations to the property, incorporating outstanding amenities distinct to a luxury estate: a majestic main residence at the end of a stately, tree-lined drive; a separate 1,500-foot guest house; a charming red-and-white barn; and a pool house next to the in-ground, waterside pool.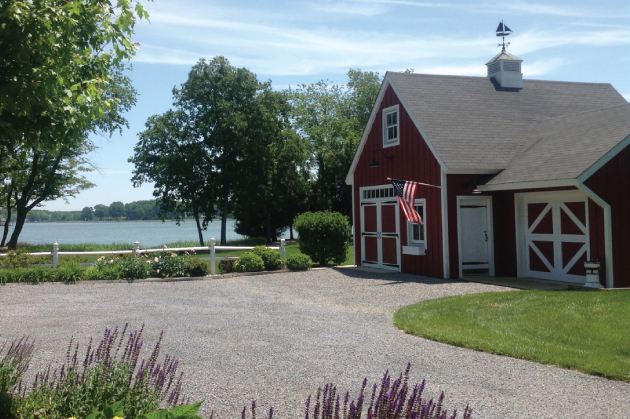 All interiors were meticulously maintained and tastefully finished, with standards such as hardwood floors and crown molding, and standouts such as built-in bookshelves and meticulous faux paintwork on kitchen cabinetry, even down to the knobs. The main residence also includes such appealing elements as multiple fireplaces, a farmer's sink, high-end kitchen appliances, and a large sunroom overlooking the water.
The buyers, who determined it was the right location, right size, and right amount of privacy, do not plan any changes to the home at present.
Sources: Carolina Barksdale (listing agent), Benson and Mangold Real Estate, 443-786-0348, carolina@talbotrealestate.com, www.talbotrealestate.com. Wink Cowee (buyer's agent), Benson and Mangold, cell-410-310-0208, office-410-745-9358, winkcowee@gmail.com, www.buythechesapeake.com.
_______________________________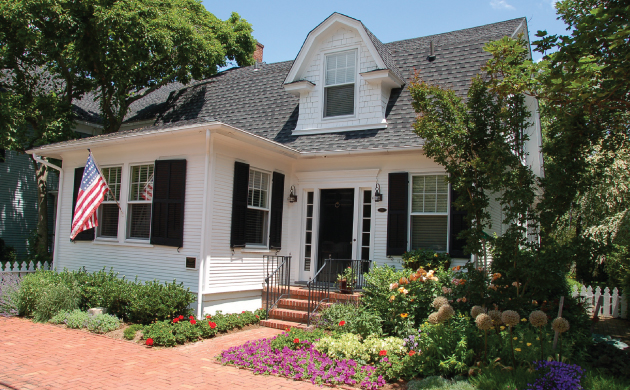 Oxford/Talbot County
Primary Structure Built:
1877
Sold For:
$700,000
Original List Price:
$717,500
Last Sold/Price:
2007/$575,000
Bedrooms:
3
Bathrooms:
2.5
Living Space:
2,471 square feet
Lot Size:
.18 acre
You'd think a 137-year old home, on the market with 19 other properties for sale along the same street, would flounder. Think again. Sold after 43 days on the market at just $17,500 below full asking price, this Dutch colonial effectively balances historic charm with modern creature comforts, and a prime location with quiet and verdant yardscapes.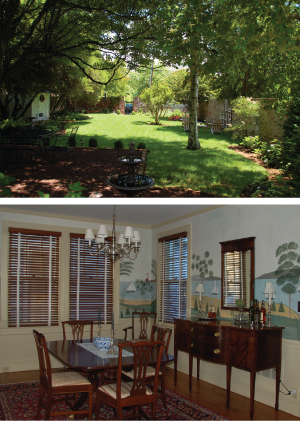 Designated a historic property via the National Register of Historic Places, this residence was the Oxford Post Office in the late 1800s. The town of Oxford, one of the oldest in the United States, is well-known as a historic destination, with quaint streets, quiet settings, and an old-fashioned, waterman's ambiance.
The sellers, who love historic properties and restorations, painstakingly renovated the home top to bottom, preserving its traditional elements while incorporating high-quality features. Original windows, doors, trim, and a parlor hearth were paired with French doors, added built-ins, and vintage-inspired fixtures. Nantucket artist Helen Howard was brought in to hand paint a four-wall mural in the dining room, depicting everyday scenes of Oxford. Further homage to the Oxford lifestyle is on display in the foyer with a compass medallion floor inlay.
Satisfying their penchant for cooking, the sellers also modernized the kitchen with top-of-the-line appliances, multiple seating areas, and a large picture window ensuring a bright, sunny space. The window overlooks another highlight of the home—a rustic, brick wall surrounding a private and lush yard, complete with an eating area, shading trees, a shed, and gardens. Though they loved this home, the sellers were drawn to a waterside property, and to avoid selling delays, priced this residence wisely to move it quickly.
The buyer, who also appreciates historic homes, was excited to purchase a house that was "completely done," and simply looks forward to adding on to some of the garden elements in the back.
Sources: Cecily and Peter Schneider (listing agents), Benson and Mangold, 410-829-3593, ceci@goeaston.net, www.bensonandmangold.com. Cindy Browne (buyer's agent), Benson and Mangold, 410-476-7493, cindycbrowne@verizon.net.