Athletes Worth Watching: Ellie McNulty
Jun 19, 2014 10:00AM ● By Jake Russell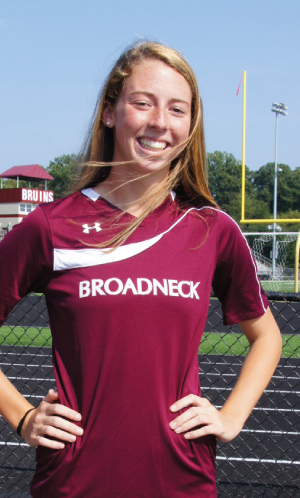 Broadneck // Soccer, Basketball, Lacrosse, Track and Field
Versatility is a trait that has bred success for McNulty. The four-sport star just can't seem to lose.
So it's no surprise that capturing the 2013 4A/3A Lacrosse State Championship tops McNulty's list of highlights from her high school athletic career.
"It was an amazing feeling," she says. "It really helped to know that since the first day of tryouts we were working so hard for that as a team—each of us putting our skills together to be the best that we could."
The camaraderie that developed between McNulty and her teammates certainly helped spur on their success.
"I love coming out here after school and working with a bunch of my friends at a common goal to work hard in practice and then perform in a game and make those relationships with my friends and coaches so that we can have the best team possible," McNulty says.
On the soccer field, she earned 2013 First Team All-County and 2012 All Met Honorable Mention for soccer.
In her free time, Ellie loves to get away to her family's cabin in Western Maryland where she likes to go four-wheeling, swim in the ponds, and just relax with her friends.
McNulty, an academic leader for the National Honor Society, is Princeton-bound, where she plans to major in pre-med. Given her interest in medicine and helping others, her post-college goal is to become a pediatrician or a physician's assistant.