What's Up? With Annapolis Real Estate
Jun 30, 2014 09:00AM ● By Lurdes Abruscato
By Lurdes Abruscato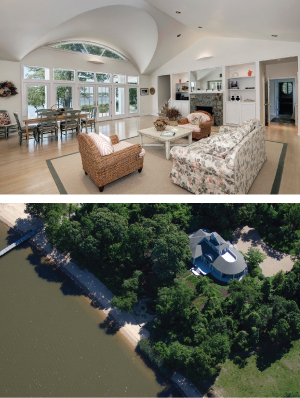 There's nothing cookie-cutter about the Annapolis area. Drive through our streets and you'll find a motley mix of architectures and styles. What keeps our neighborhoods from looking ragtag is the successful use of transitional structures. Transitional homes—a combination of traditional and contemporary design and finishes—help bridge our historic edifices to our modern constructions. In this issue of What's Up? with Real Estate, we feature two transitional residences sure to please any eye.
BODKIN POINT
Primary Structure Built:
1992
Sold For:
$1,400,000
Original List Price:
$1,479,000
Last Sold/Price:
n/a – seller built the home
Bedrooms:
4
Bathrooms:
3.5
Living Space:
3,281 square feet
Lot Size:
3.76 acres
It's always impressive when a luxury property receives a contract for close to full asking price within 18 days of going on the market. And certainly, a home of this size and quality, were it transplanted to within city limits, would have sold for even more. But what really struck us: This 22-year-old Pasadena residence has never been remodeled nor was it staged for listing, yet it still showed like an up-to-date and beautifully appointed abode.
Within a gated community, the property is situated on nearly four acres of a private wooded lot, featuring a picturesque winding driveway and abundant landscaping. The back of the home opens to 145 feet of water frontage with a private beach on Bodkin Creek, which feeds into the Chesapeake. A boat slip is available at the community's marina, with water depths of 6-plus feet MLW. More than 2,000 square feet of exterior decking surrounds the home to take full advantage of the water setting.
The home itself, a transitional style with a unique blend of shingle siding, dormer windows, wrap-around porches and pitched roofs, is oriented toward the creek for additional water views. Designed by Gordon Architects and built by Winchester Construction, it is an elegant work of geometry—soaring peaked ceilings, with their dramatic angles, flow into barrel (or arched) ceilings. The juxtaposition of angles and curves is woven throughout: a single oval window stands out in a sea of rectangular windows in various rooms; French doors open to a curved private deck off a top-floor bedroom; and a curved kitchen island offsets the room's quadrilateral layout.
What's surprisingly missing is evidence of the decade it was created—no faux finishes, brass fixtures, shabby chic elements, or white-on-white kitchen cabinetry anywhere. Instead, the custom-built residence displays timeless and high-end elements that don't scream "dated," including neutral cabinetry and exotic granite. Popular options such as a first-floor master and open floor plan, meld with high-end touches, including a steam shower, underground sprinkler system, and outside shower.
Just like the previous homeowners, the buyers plan to use the home as a second residence, and anticipate minimal changes. They have, however, added a private pier for their 93-foot yacht.
Sources:
Santiago Navarro-Monzo (listing agent), Keller Williams Select Realtors, cell-443-994-9923, Santiago@getsyouhome.com, www.getsyouhome.com. Dani Moore (buyer's agent), Exit Choice Realty, cell-240-765-9985, dani@exitchoicerealty.com, www.1topagent4u.com.
_________________________________________
CAPE ST. JOHN
Primary Structure Built:
1999
Sold For:
$1,191,000
Original List Price:
$1,249,000
Last Sold/Price:
2003/$1,100,000
Bedrooms:
4
Bathrooms:
3.5
Living Space:
3,544 square feet
Lot Size:
0.23 acre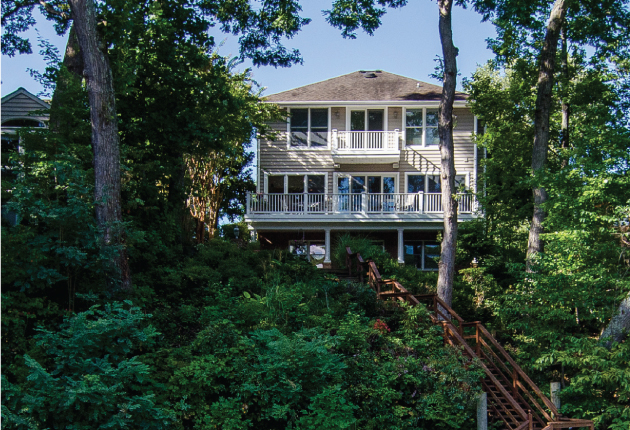 Valerie and Bill Dick have long loved boating and have been regular recreational commuters to Annapolis from the western suburbs through the years. When not relaxing on Annapolis waters, they resided in a sprawling rural home with lots of space, a pool and other amenities for their family as well as a home-based business. But with their children now graduated and their business transitioning to a new facility, they were no longer wed to their location and took up the search for a waterside residence.
Their hunt was a bit of a Goldilocks adventure: it couldn't be too big or too small, too far or too close, Valerie says. When they found this transitional abode, they appreciated that it was an easy commuting location, quiet yet convenient, and just the right size for their downsizing needs. Most importantly, the 3,500-plus square foot residence includes a private dock, multiple boat lifts, and 4-plus ft. MLW depth on Boyds Cove, an easy access waterway to the South River.
The three-level home is designed to take full advantage of its waterfront setting, with multiple decks, a blue stone patio, lush foliage/landscaping leading down to the pier, and abundant water views from the inside too. "There's the big window in the living room/dining room, great views from the kitchen. The sun sets in front of the house, so it's not beating down on you. When you're in it, it just has a really nice feel and that attracted us," Valerie says.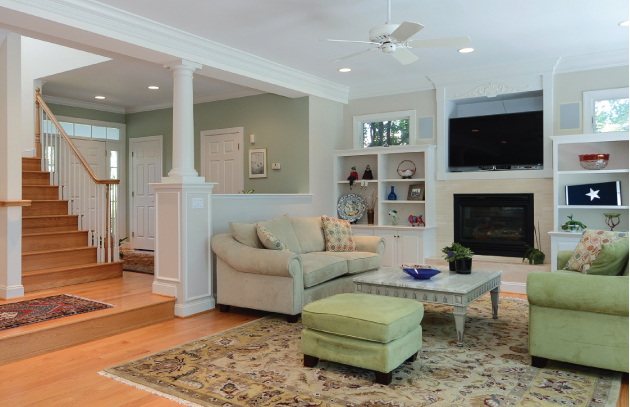 Other popular features, including an open floor plan, high ceilings, built-ins, fireplaces, and a massive master closet, to name a few, can be spotted throughout the home.
Following the "painless" real estate transaction, Valerie and Bill initiated a few changes to personalize the property: enlarging the dock slightly; sanding and staining the wood floors to a darker brown for a newer look; updating a few appliances; re-doing the lower-level kitchen/bar area; repositioning a washer/dryer behind sliding barn doors; and adding hardwood floors to the master and guest room.
Sources:
Martha Janney (listing agent), Coldwell Banker, 443-822-6850, mjanney@cbmove.com. Jennifer West (buyer's agent), Coldwell Banker, 410-533-8990, jenniferwest@cbmove.com. Photos courtesy of Michele Sheiko, 443-994-2818.