David Orso
Jul 29, 2014 01:37PM ● By Cate Reynolds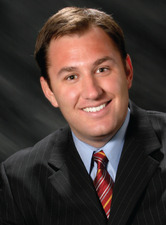 Nationally ranked real estate expert and Anne Arundel County native David Orso is passionate about selling homes and contributing to his hometown. With an educational background in psychology and strategic marketing, David Orso holds an MBA, and has the knowledge, skills and abilities to successfully manage the excitement and emotions surrounding real estate transactions for his clients.
"I love building relationships with families and helping them solve their real estate needs. It is extraordinarily gratifying to me to be a trusted advisor to families with one of their largest assets."
David was the manager of a local brokerage and managed over 1,000 residential transactions and a volume greater than $500 million. Since 2011, he has personally closed over $100 million. He is ranked number one in Maryland within his firm, number fifteen out of all individual agents within Century 21 worldwide, and was named one of REAL Trends' Best Real Estate Agents in America.
In addition, David is on the board of directors for Chartwell Country Club, Bello Machre, and Building Traditions Society at Anne Arundel Medical Center.
This summer, David Orso will be releasing his first book,
Step Inside: The Unfiltered Truth About Listing and Selling Your Home
. In his book, David exposes the biggest myths in residential real estate and the trade "secrets" of going from listed to sold, smoothly and successfully. 100% of the proceeds from the sale of the book will benefit Anne Arundel Medical Center.
David Orso
443-691-0838
david@davidorso.com |
davidorso.com
Century 21 New Millennium
2448 Holly Ave. Suite 100
Annapolis, MD 21401
______________________________
Q:
It seems like every agent promotes themselves as #1 at something. How do I know who is really selling homes?
A:
When you interview an agent to sell your home, it is fair and reasonable to ask the agent for their up-to-date performance statistics. I would recommend asking the agent how they rank in the county for total volume sold, a list of year-to-date listings closed, how long it took to sell those listings, and how close was the closing price to the original list price. If the agent has factually proven themselves to be a top producer, then it is advised to ask for a list of prior clients to contact for references.
David Orso, Century 21 New Millennium