Stage it, Love it, Sell it
Aug 01, 2014 01:30PM ● By Cate Reynolds
By Gail Greco
Loving it While it's Listed
"All the world's a stage," describes my work in Europe and the U.S. as a photo art director for TV and still photography. So when
What's Up?
Editorial Director James Houck called to assign, "a quick turn-around article on home-staging," he said, "with your expertise, you can write this with your eyes closed." And I thought, "True," but once I started my research, my eyes were opened.
I invited a home stager into my own house, figuring I would ace this test and we could then talk about other things for the article. But then came the "Uh-Oh" moment when the stager showed me that my art direction didn't necessarily transfer into staging for home-selling. And if I could learn something, imagine the benefits to every other home seller who works with a stager.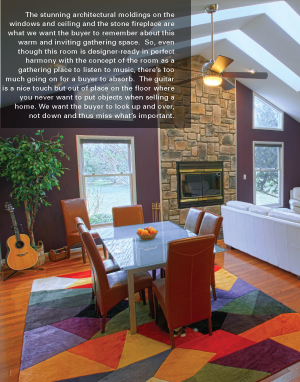 "Not everybody gets that," says Donna Fohs, who runs a staging business based in Annapolis. "People are reluctant to spend time or the little bit of money staging costs on something they're leaving. But then they see their home refreshed, renewed, and the transformation causes excitement—positive energy that beelines to the buyer as they love their home again." Her comment reminded me of the HGTV show,
Love It or List It.
Once I went through the home-staging experience myself, I found the reality to be more like loving it while it's listed!
Taking me through the experience in my Royal Oak home was stager Cecily B. Schneider of Easton, who is proving all over Talbot County that, "Home staging has become a necessity not an option.
"Staged homes spend 78 percent less time on market than those not staged," she adds. And Cecily is finding that some home sellers are having their homes staged even before calling in a Realtor. Trappe resident Rich Conlon, for example, did so before calling his agent to put a price on his 7,000-square-foot home this summer. "I wanted to be sure I got the best listing price," Conlon says, "and I felt it started with my agent's impression."
If They Can 'Feel' the Bath Bubbles, Maybe They'll Buy
Home staging has gained recognition as a formidable trade, especially in a down market where it can help fetch a better price and beat out the competition. Home staging was originally done by interior design firms, but is now in its own respected niche. A stager designs for the moment and an interior designer for the future. And many stagers like Cecily and Donna work first with what's in the home to keep costs down. "I never know what I'm getting into until I walk through the front door and I have to make it work," Cecily says of her job, which can be stressful at times, depending on how open the seller is to making changes.
Elaine Werner, who has her house for sale on Irish Creek in Royal Oak, says, "We were reluctant at first to spend the money for a stager as we didn't know what to expect. What if it she turned the house around and it hurt our sale? But an incredible job was done in every room using what we had. At first I thought the rooms looked sparse, and it took some getting used to. But I get it, and can see why it's important for a buyer to see our house—not our personal things—and I realized that a little goes a long way."
Better-looking rooms that show off the home—and not just the décor—make for better photography, a must now that buyers look for homes first on the Internet. "So home staging starts right here," says Cecily, who whisked away the chic Pottery Barn place-settings I had styled on my kitchen bar for a showing. "Buyers won't sit here," Cecily pointed out. "Really?" I couldn't believe that my inspiring display (which my clients would pay hundreds of dollars for me to set up) would not hook a buyer and make them imagine sitting down to eat. But once off the counter, I saw how my staging for photography distracted the looker from the more valuable view of the water, and even I didn't want to sit there.
"Home staging means taking what you have and highlighting the house so the buyers have an 'Ah-Ha' moment, seeing themselves living there," Cecily says. "You don't want buyers remembering your house as the home with the pretty vases but the home where you can plop down in that comfy sofa or step into the pampering bathtub to imagine these experiences. When they can sit, they can see what they're buying, and your accessories are not what's for sale."
"So, Cecily," I asked, "staging addresses how someone will live…it's not a negative word, meaning to contrive or set up something unreal?"
"Not when you bring out how you live," she explained. "The way you position your furniture and accessories delivers messages, and you want them always to be about the joyful lifestyle you live and how they will, too." Donna Fohs comments that some vignettes are set up that can be impractical for everyday use: A violin in a child's room suggests music practice happens here. Maybe not for the buyer, "but it works because it suggests the space accommodates such activities," Donna says.
Cecily instructed me to stage a vignette with my big black agate crab/corn steaming pot, putting it on the stovetop so the next day's buyers could look at the kitchen in the way I spend my days in that room, cooking and creating for work and pleasure with what's available from the dock they would be buying along with the house. "By the way, Gail, why is your crab pot in the garage? ...needs to be on the dock," Cecily instructed. "And how about those binoculars you said you use to spot the resident owl swooping by at dusk? You have a stunning water view, but help the buyer see how you relate to it." And then Cecily set about in my master bedroom, facing wing chairs towards the water instead of the wall. Now you can't get me and my husband out of them as the sky fires up in a dramatic blaze every night.
Cecily spent three hours on more little changes like ridding the house of hydrangeas I had lovingly grown and dried—so many that they had overtaken and dated the house. "Only fresh seasonal flowers," insists Cecily. A basic tenet of styling that I know so well, but we often don't notice things in our own home that we are so used to seeing.
What? Getting Rid of My Gorgeous Dish Towels?
In the past, home sellers were left on their own to prepare a house for showings with only the help of agent handouts covering matters like de-cluttering and having the house smell fresh, which seems like common sense and all that's needed. "But without a professional, you are guessing at how to interpret what all that means," says Janet Larson, a top selling agent on the Eastern Shore. A good example, I had designed our kitchen island to have three open shelves for quick access to mixing bowls, cutting boards, and colanders. But for showings, I cover that up by hanging a favorite dish towel to hide the shelves, which Cecily noted shows the buyer my good taste in linens but not the ease and practicality of the kitchen arrangement.
Larson includes staging as part of her listing package; she—not the seller—pays for the stager and although at a cost to her, "ultimately and absolutely, it leads to a much quicker sale," she says. "Then it is my listings that become the most memorable when a buyer is out seeing so many houses. Buyers deserve to see themselves in the listing. The staging process takes a home from awkward to incredible and so they are mentally easier to digest."
Larson warns her sellers that when the stager works her magic, it can be an emotional process to live in the house a little differently. One of her sellers recently had her 5,000-square-foot home staged in Easton and the seller (who asked not to be identified) said it was hard because they live in the house with family visiting all summer and she was reluctant to change the familiar, and thus the comfortable gathering spots, her family expects to see when they visit." Larson explains that she appreciates a stager taking the pressure off her, so that as listing agent, she is not making the corrective suggestions, but rather an objective professional.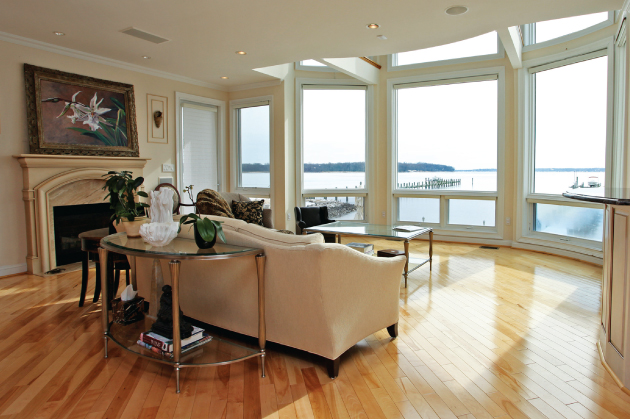 Costs for staging vary but generally run $50 an hour and up. Most times there is no further cost when the stager works with what is already in the home. "Staging is so minimal an investment, and yet the effect can make the difference between selling or not," says Realtor Meg Moran of Easton.
Many agents agree and Glory Bee Costa, an agent in St. Michaels and Annapolis, summed up, "I have used stagers in the past, but if a home is clean, neat, and priced right, it will sell. Otherwise, it needs professional help."
Agents realize, as Frank Talienti an agent in Severna Park does, that, "A home that doesn't show well stays on the market longer and it costs the listing agent." I'd rather pay the price—even a larger staging job could be $500–700—but it pays in the long run and also gets me off on the right foot with my sellers. Plus, most agents pay for photography, but if the rooms don't look good, especially for today's first-time buyers who surf the Internet, they will click away and never return to that house."
"Having a stager has been a huge part of my sales success rate," credits Larson. And who knows, staging may lead to sales success for me, too. Meanwhile, I'm loving it while it's listed!
_____________________
Cecily B. Schneider's 10 Best Home-Staging Basics
Tips from Donna Foh