What's Up? with Real Estate
Aug 12, 2014 12:00PM ● By Lurdes Abruscato
By Lurdes Abruscato
In fashion circles, it's called prêt-à-porter—distinct, tailored clothing sold in finished condition. The equivalent in the real estate realm is a turnkey property, where a residence is constructed or finished down to the smallest detail for immediate use. In this issue of What's Up with Real Estate, we profile two turnkey homes anyone would love to try on for size.
EASTPORT
Primary Structure Built:     
2013
Sold For:
                            $1,325,000
Original List Price:
            $1,338,000
Last Sold/Price:
                n/a – new construction
Bedrooms:
                        3
Bathrooms:
                       3.5
Living Space:
                    3,850 square feet
Lot Size:
                           .25 acre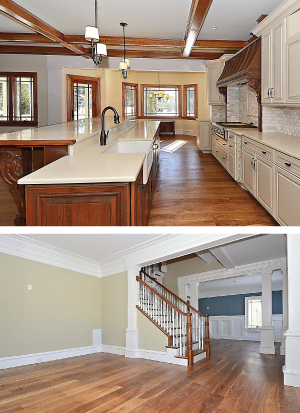 Eastport is well known as a unique neighborhood, filled with distinct history, properties, and styles. Its quiet streets, including the neighborhood of this newly constructed residence, have subsequently been undergoing a real estate transformation of late, with several non-waterfront homes in the million-dollar-plus range.
Fitting seamlessly into the area, this property's mix of traditional and craftsman façade, gabled peak entryway, and unique roof pitches give it both a modern and vintage appeal. Situated across from Spa Creek, it is convenient to downtown Annapolis and nearby marinas. Though it had been on the market briefly as a for-sale-by-builder, once it was taken on by a listing agent, it went under contract within six days. The buyers, who had looked at dozens of properties around town, knew within minutes of touring this home that it was what they wanted and more.
The semi-retired builder, who prefers anonymity and chooses not to promote his services, constructs infrequent homes to his own exacting standards, producing amazing turnkey residences. Each of his houses is unique, with dozens of handmade details and top-shelf carpentry, trim work, and finishes. On this project, the main and bedroom levels, for example, feature wide-paneled, hand-hewn wood floors. The open kitchen includes a dramatic six-burner cooktop framed by mosaic tile and a carved wood surround. Custom cabinetry throughout the kitchen is on display in contrasting wood tones, and similar wood is evident on corner brackets on doorways, coffered ceilings, a built-in wet bar and elaborate built-ins framing the fireplace.
Other unique and useful details can be spotted throughout the home: convenient open cubbies in the mudroom; architecturally interesting square columns on all three levels; elegant wainscoting in the dining room and lower-level; oversized walk-in closets with solid wood built-in shelving; and simple yet sophisticated finishes in the bathrooms such as a river stone-floored shower with multiple shower heads. Completely enamored with the home's particulars, the new owners plan on no changes at all.
Sources: Celeste Blessin (listing agent), Previews Property Specialist, Coldwell Banker, cell-443-994-4105, office-410-224-2200, cblessin@aol.com. Travis Gray (buyer's agent), Coldwell Banker, cell-301-641-0809, office-410-263-8686, tgray@cbmove.com,
www.annapoliswaterfrontguide.com
.
_____________________________________________
ANNAPOLIS ROADS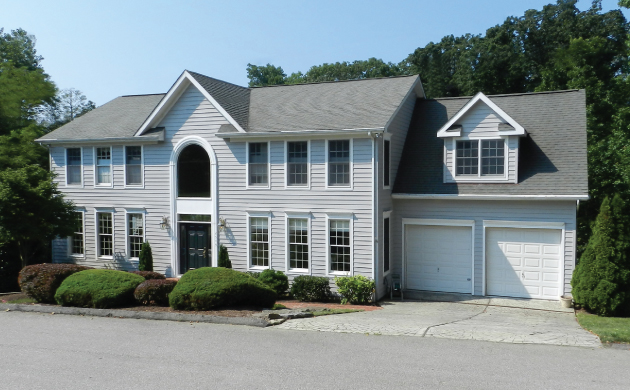 Primary Structure Built:
        1997
Sold For:
                               $980,000
Original List Price:              
$1,150,000
Last Sold/Price:
                   1998/$485,000
Bedrooms:
                           5
Bathrooms:
                          3.5
Living Space:
                       3,200 square feet
Lot Size:
                              .81 acre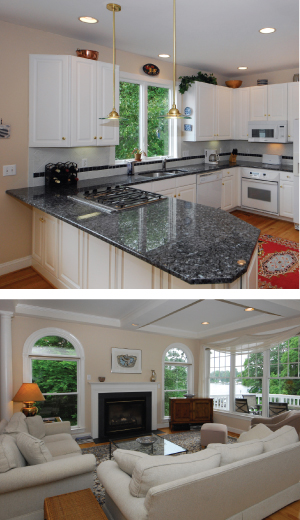 Originally on the market by another realty agent, this property moved fairly quickly after a new realtor recommended a price reduction to below the million-dollar mark. The buyers, in search of the perfect second residence, appreciated the property's water views, appealing neighborhood and "like new" condition.
Situated on Lake Ogleton, the only modification the purchasers currently anticipate is replacing the private pier (with 3-plus ft. MLW access), particularly as the sellers already had obtained a permit. The home also comes with two fairly rare perks: a deeded deep-water mooring (8-plus ft. MLW access) on the lake—essentially a floating ball that's attached to the lakebed, so its users can moor a large sailboat that cannot be accommodated at most piers—and a heated driveway, ideal with this area's harsh winters.
Just around the corner from the more well-known neighborhood of Bay Ridge, Annapolis Roads holds its own appeal. The area is readily accessible to downtown Annapolis/D.C./Baltimore, and includes winding roads, wooded lots, a children's playground, community beach, and boat ramp.
The home itself is a traditional cedar siding abode with an inviting brick walkway. Though it contains no over-the-top luxury features or sleek modern finishes, it shows pristinely with lots of user-friendly options. An open floor plan with plenty of windows and three levels of decks—including one off the master suite—highlight the property's water setting. The kitchen includes a breakfast and desk area, as well as French doors to the main and largest deck. A finished, walkout lower level accesses another deck. Lots of bedrooms, granite countertops, a coffered ceiling, crown molding, chair railing, and a master suite with its own sitting area and fireplace round out the package.
Sources: Charles Buckley (listing agent), Mr. Waterfront Team, Long & Foster, office-410-266-6880, charlie@waterfronthomes.org,
www.waterfronthomes.org
. Brad Kappel, Mr. Waterfront Team, Long & Foster, cell-410-212-5087, brad@waterfronthomes.org,
www.annapoliswaterfronthomes.org
.
Want to suggest a recently sold home to be profiled in What's Up with Real Estate? Contact Lurdes Abruscato at lurdesabruscato@aol.com.