Chart House's Crispy Spring 
Oysters Recipe
Aug 18, 2014 09:00AM ● By Cate Reynolds
By Kimberly Cooper • Photography by Tony Lewis, Jr.
Chart House • 300 2nd Street, Annapolis • 410-268-7166 • chart-house.com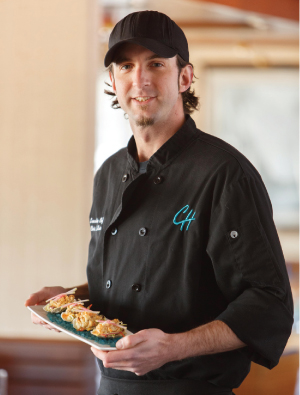 There are many elements that make a good chef. Skill, of course, and a keen knowledge of the kitchen's inner workings. But the main element that takes a chef from average to excellent is passion. Executive Chef Chris LaCasse at the Chart House in Annapolis is certainly not lacking in the passion department. An inspired chef with a knack for delicious seafood, LaCasse shares with us his views on running a tight ship, his favorite foods, and his recipe for Crispy Spring Oysters.
How did you come to work for the Chart House? How did you know you'd want to be a chef?
I got a job working for Charley's Crab, part of the Landry's Inc. family, along with Chart House, in West Palm Beach through a friend that was in culinary school with me at the time. I then transferred to the Chart House concept and worked my way up through the ranks. I didn't always know I wanted to be a chef, but when I found my passion for food and cooking, I gave it a shot and it came to me easier than other jobs had in the past. It was meant to be even if I didn't know it.
How often is the menu changed at the Chart House? Is there a particular dish that customers always seem to request?
We have some staples on the menu that would cause quite a stir if we took them off such as the slow roasted prime rib, macadamia crusted Mahi, and the crab, avocado, and mango stack. We try to keep it fresh and seasonal with new and rotating items every couple of months. We also have regional specialties that feature seafood from the Chesapeake Bay and other local ingredients; one example would be our Chesapeake seafood stew.
What do you view as more important and why: local or organic foods?
If I could only choose one, I would pick local. Everything tastes better when it is fresh and the less distance an ingredient has to travel to make it to my kitchen, the better it is when I serve it to our guests.
What do you think is the most important tool in the kitchen? What are the elements that make a kitchen run smoothly?
The product. You can have the best knives, gadgets, staff, and equipment available; but if your ingredients aren't fresh and of a good quality nothing can make them taste good.
For a kitchen to run smoothly you have to start by hiring people who care. You can teach someone how to perform a task, but you can't teach them to care. We form a great team of people that care and understand that training never ends; there is always something new to learn.
How did this dish originate?
This particular dish is one of our Springtime Fare menu items and it was created by a fellow chef, Stephanie Klos, from our Longboat Key location. She is a 10-year veteran of Chart House and a member of our culinary counsel. She has been experimenting with different slaws and thought this one would pair very well with oysters.
What wine or drink pairs best?
I would sip some bubbly Prosecco or, if you prefer beer, a hoppy IPA would be very nice.
What is the most important step when cooking it?
After picking fresh oysters you want to make sure to treat them right. Use clean oil and make sure the oyster is cooked until it is crisp and then you drain the excess oil.
Recipe
Chart House Crispy Spring Oysters Recipe
Ingredients
12 Freshly shucked local oysters (reserve shells for plating)
3 egg whites lightly beaten (add more as needed)
Seasoned all-purpose flour (as needed, seasoned with salt and black pepper)
12 oz. Marinated slaw (see recipe)
6 Tbs. Sriracha BBQ Sauce (see recipe)
1 julienned watermelon radish (sliced 1/16" and fine julienned 1/8")
Creole seasoning
Blue rock salt (for plating)
Assembly Procedure
Dip oysters in egg whites, shake off excess egg whites, and individually dredge well in seasoned flour. Fry in batches in a 325-degree fryer until very crisp (approx. 1 to 2 minutes), then transfer a paper towel-lined dish to absorb excess grease. Sprinkle several pinches creole seasoning over the oysters.
To Plate
Spread rock salt on desired serving platter and evenly space oyster shells in the salt. Place 1 oz. Marinated Slaw in each oyster shell and place one crispy oyster on the slaw. Top each oyster with ½ Tbs. Sriracha BBQ sauce and two pieces julienned Watermelon radish.
Marinated Slaw
¼ cup Cabbage slaw mix (red & green cabbage, red onions, and carrots, packaged is fine)
½ cup roasted corn kernels
½ cucumber, peeled, seeded, and diced finely
1 oz. fresh cilantro finely chopped
¼ cup mild banana pepper rings, drained and diced finely
½ Tbs. chopped garlic
¾ tsp granulated sugar
1/8 tsp ground cumin
1/8 tsp red pepper flakes
2 Tbs. olive oil
2 Tbs. mirin (sweet rice wine vinegar)
Salt & pepper to taste
In a mixing bowl, combine all ingredients and toss well to combine.
Sriracha BBQ Sauce
2 Tbs. white wine vinegar
½ tsp granulated sugar
¾ cup mayonnaise
1 Tbs. creole mustard
1 Tbs. Sriracha chili sauce
Salt & pepper to taste
In a mixing bowl, mix vinegar and sugar until sugar is dissolved. Add remaining ingredients and mix until thoroughly incorporated. Recipe yields 1 cup (remaining sauce can be covered and stored for one week).