What's Up? with Eastern Shore Real Estate
Sep 11, 2014 01:06PM ● By Lurdes Abruscato
By Lurdes Abruscato
Strong market or not, this month's What's Up? with Eastern Shore Real Estate features two very different yet desirable Benoni Point homes.
Tucked away on a little cape of land, and flanked by the Choptank and Tred Avon rivers, lies the tiny sleeper community of Benoni Point. Unlike neighboring towns, it is not known as a historic hub or a charm-laden hamlet, and subsequently doesn't draw huge crowds of tourists, home buyers, boaters, or vacationers. But, its unique blend of water access, sprawling acreage, and custom homes makes it a distinctly Eastern Shore spot.
In fact, such Eastern Shore enclaves have begun to see an improvement from the residential market crash, in both number of sales and pricing, realty experts concur. Since many of this area's higher-end residences are vacation or second homes, their purchase is more discretionary, which has kept the area from bouncing back to the near-thriving levels of Washington, D.C. and other metropolitan home sales, says David DeSantis, a partner with TTR Sotheby's International Realty. But buyers who want beautiful waterfront getaways haven't gone away, he adds, and that's starting to show in recent home sale figures.
Benoni Point/Talbot County
Primary Structure Built:
      1978
Sold For:                              $3,800,000
Original List Price:               $4,400,000
Last Sold/Price:                   2003/$2,400,000
Bedrooms:                           3-main house; 2-guest house
Bathrooms:                          2 full, 2 half-main house; 2.5-guest house
Living Space:                       6,360 square feet
Lot Size:                               5.85 acres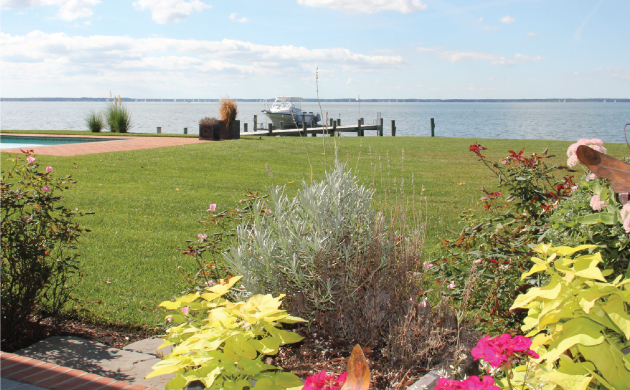 Purchased as a multi-property transaction 13 years ago, the sellers knew they had found a pretty spectacular spot: high land on the Choptank River with a serene setting and endless water views. To take it to the next level, they completely redesigned the existing home and its surroundings, enlisting the help of a small local builder with an Amish background. The result is an elegant estate with multiple structures, top-notch materials, and design that emphasizes gracious, waterfront living.
Along the water, the property has a rip rap shoreline and unobstructed southwesterly sightlines, particularly ideal for sunset viewing. A private pier with boat lift provides 3-plus feet MLW access to the river, offering quick entry to nearby creeks, coves and quaint ports, as well as a direct shot to the Chesapeake.
During the renovation, an adjoining lot was used for a new guest house, complete with two bedrooms, two-and-a-half baths, living room, and kitchen, as well as its own septic and well. A separate pool house with a striking trellis and patio accompany the in-ground pool, set off with a decorative brick border. A detached barn sits discreetly nearby. Paver walkways, picket fencing, and an irrigation system further enhance the outdoor setting.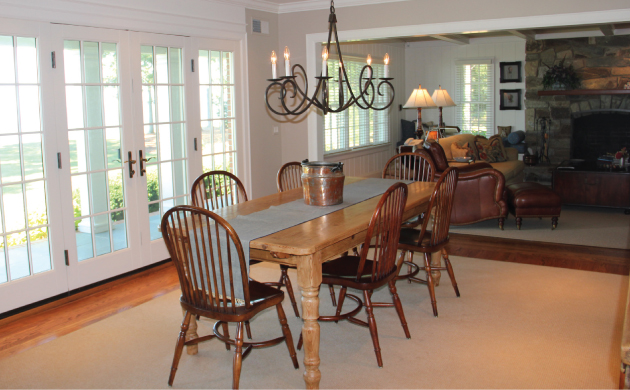 The main house is traditional in appearance, with a vivid dark shingle roof, dormer windows, and brick/Hardiplank siding (similar features are carried through the exterior of the other buildings as well). Especially striking is the back of the home, with its columned patio, screened-in porch, and multiple upper-level decks—all built for waterside enjoyment.
The interior of the main house includes dozens of refined finishes. A massive stone fireplace in the family room is sandwiched between built-in and cushioned benches. No less than three sets of French doors in the kitchen provide views, abundant natural light, and easy access to the backyard. The master bath is a vision in white wainscoting and marble, with a soaking tub prominently anchored in the middle of the room and a doorway behind it leading out to one of the decks. Finessed millwork is evident throughout, from wood inlay details within the hardwood floors to Shaker-style balusters and newel posts on stairway railings.
Remarkably, this luxury property went under contract in less than a month of going on the market. The buyers, who wanted something move-in ready with a big view, have decided to make this their primary residence. For now, they are only adding an exterior fireplace and cooking station and converting the screened-in porch to a three-season room.
Source:
Cornelia C. Heckenbach, Lacaze Meredith Real Estate, cell-410-310-1229, office-410-745-0283, ext. 104, info@corneliaheckenbach.com,
www.StMichaelsMdWaterfront.com
.
______________________
Benoni Point/Talbot County

Primary Structure Built:
      1999
Sold For:    
                         $1,750,000
Original List Price:
              $2,225,000
Last Sold/Price:
                  2009/$2,400,000
Bedrooms:
                          4
Bathrooms:
                         4
Living Space:
                      3,463 square feet
Lot Size:    
                          5.48 acres
With its rustic shingle siding, widow's peak, and muted green and gray exterior tones, this contemporary seems pulled right from the shorelines of Cape Cod or the Outer Banks. On and off the market over a period of three years, it went under contract within a week after it had a realtor and price change.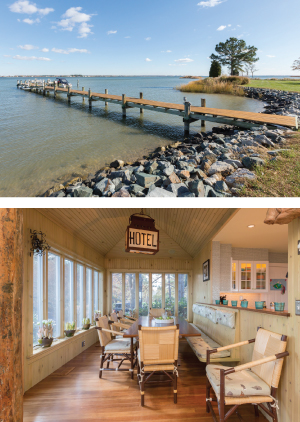 Emblematic of a coastal "compound," the property includes everything necessary for waterfront enjoyment. The home was specifically designed to spill out onto the back, with a large screened-in porch that opens to an expansive yard, an in-ground pool, hot tub, outdoor kitchen, and a shared six-foot wide pier (1-plus foot MLW access) with two boat lifts. This part of Benoni Point sits on the Tred Avon River, with the Choptank just around the corner.
The interior mimics the outdoors and emphasizes a big, open feel, with high ceilings (several with bead board detailing to draw the eye up), a flowing floor plan and rustic/coastal materials. To offset too many muted nature elements, the home is decorated whimsically: punches of fun color play off the various hardwoods and furnishings; curved driftwood accents a chandelier; colored backsplash is carried to the ceiling in the kitchen. Paired with the fanciful items are high-end features, including a stacked-stone fireplace, built-in nooks and shelving, extensive mosaic tiling in the bathrooms, exotic light fixtures, and upgraded appliances such as separate wine and beverages. The result is a very casual and comfortable setup, without looking sloppy or unstylish, making it an ideal family and entertainment space.
Sources: David DeSantis (listing agent), TTR Sotheby's International Realty, mobile-202-438-1542, office-301-967-3344, david.desantis@sothebysrealty.com,
www.ttrsir.com
. Cornelia C. Heckenbach (buyer's agent), Lacaze Meredith Real Estate, cell-410-310-1229, office-410-745-0283, ext. 104, info@corneliaheckenbach.com,
www.StMichaelsMdWaterfront.com